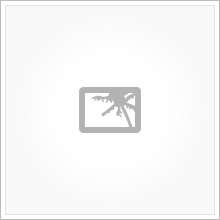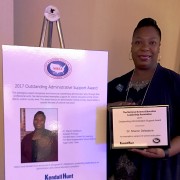 Congratulations to Dr. Sharon Delesbore for receiving the 2017 National Science Education Leadership Association (NSELA) Outstanding Administrative Support Award. This prestigious award recognizes and honors an outstanding administrator who, through their professional work, has demonstrated exemplary support for science education at the school, district, and/or county level. This award honors an administrator whose primary responsibility is outside the area of science instruction.
Dr. Delesbore serves science education as a Consultant for the International Center for Leadership in Education (ICLE) and an Administrator for the Fort Bend Independent School District. She also serves as President of the Association for Multicultural Science Education (AMSE) and committee member for the NSTA Alliance of Affiliates Representative for AMSE.
For more information about Dr. Sharon Delesbore, visit https://www.linkedin.com/in/dr-sharon-delesbore-506773a4/.
Creating Positive School-Home Partnerships Using Culturally Responsive Practices
Friday, March 31 9:30 AM – 10:30 AM
JW Marriott Los Angeles at L.A. LIVE, Platinum Ballroom Salon A
Take a reflective look at school/family relationships as we engage in conversation on how to build strong, valuable partnerships with families, while exploring our own personal experiences that promote reciprocal learning interactions.
Presenter(s): Veronica Garcia Betancourt (Harlandale ISD: San Antonio, TX), Meghan Guerrero (Harlandale ISD: San Antonio, TX)
FORMAT: Presentation
GRADE LEVEL: K, 1 – 12
SUBJECT: General Science Education
[INSERT ABSTRACT]
[INSERT POWERPOINT]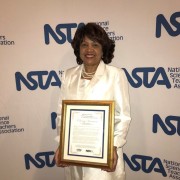 Congratulations to Dr. Cherry Brewton for receiving the NSTA Distinguished Service to Science Education Award on March 31, 2017. This award honors members who, through active leadership and scholarly endeavor over a significant period of time, have made extraordinary contributions to the advancement of education in the sciences and science teaching.
Dr. Brewton has serves science education as the Executive Director of the Evans County Community Center in Statesboro, GA. She has also served as an Associate Professor and University Supervisor for Preservice Teachers at Georgia Southern University. She has also served as a middle school science teacher in the Georgia K-12 school system. On the national level, she has served as a member of the Multicultural Science Education Committee of NSTA, President of the Association for Multicultural Science Education (AMSE), Division Director of the Multicultural/Equity in Science Education, Author/Facilitator of Higher Qualified Teacher & Equity, and Facilitator of Students of Poverty Focus Group.
Dr. Brewton's publications and grants include; Presenter, International Conference, Wuhan, China; Attended First White House Summit Science Education; Invited Lecturer, Science Teachers Association Nigeria; AMSE Legend Award; AMSE Service Award; and County Teacher of the Year.
For more information about Dr. Cherry Brewton, please visit https://www.linkedin.com/in/cherry-brewton-50a627116.