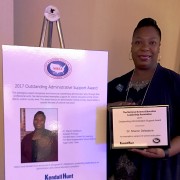 Congratulations to Dr. Sharon Delesbore for receiving the 2017 National Science Education Leadership Association (NSELA) Outstanding Administrative Support Award. This prestigious award recognizes and honors an outstanding administrator who, through their professional work, has demonstrated exemplary support for science education at the school, district, and/or county level. This award honors an administrator whose primary responsibility is outside the area of science instruction.
Dr. Delesbore serves science education as a Consultant for the International Center for Leadership in Education (ICLE) and an Administrator for the Fort Bend Independent School District. She also serves as President of the Association for Multicultural Science Education (AMSE) and committee member for the NSTA Alliance of Affiliates Representative for AMSE.
For more information about Dr. Sharon Delesbore, visit https://www.linkedin.com/in/dr-sharon-delesbore-506773a4/.