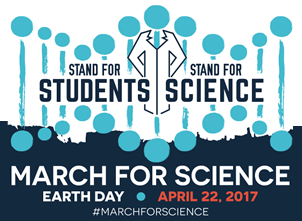 The March for Science is a celebration of science to be held on Earth Day, April 22. March organizers believe the event will gain visibility for the critical role science plays in our lives and the need to respect the openness, transparency, and the free flow of ideas inherent in the sciences.
The March for Science, held in conjunction with Earth Day, will consist of more than 400 satellite marches and rallies in 37 countries on April 22, and beyond. In Washington DC, the March for Science will begin at 10 a.m. with a rally will feature speakers and several large Earth Day teach-in tents on the National Mall and end with a march through the streets of DC.
The march is led by organizers around the globe and has the support of thousands of individuals and organizations, including the American Association for the Advancement of Science (AAAS), the Earth Day Network, and the National Science Teachers Association (NSTA).
Visit the March on Science website for the full details about the effort and activities.
I'm an Administrator. How Can I Stay Connected to Science Instruction?
 As an administrator, I've never wanted to lose the teacher in me. How can you be an administrator and lead if you don't stay abreast of what's taking place instructionally? I'm a campus administrator for a small community of at-risk students. Our science program is one of the main ways we engage our students. That's why it's important that I stay connected to science education, and NSTA helps me with that. I always share NSTA Reports, the journals, blog posts, and information I gain at NSTA conferences with my teachers and district administrators."
Read more here.