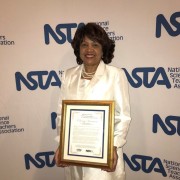 Congratulations to Dr. Cherry Brewton for receiving the NSTA Distinguished Service to Science Education Award on March 31, 2017. This award honors members who, through active leadership and scholarly endeavor over a significant period of time, have made extraordinary contributions to the advancement of education in the sciences and science teaching.
Dr. Brewton has serves science education as the Executive Director of the Evans County Community Center in Statesboro, GA. She has also served as an Associate Professor and University Supervisor for Preservice Teachers at Georgia Southern University. She has also served as a middle school science teacher in the Georgia K-12 school system. On the national level, she has served as a member of the Multicultural Science Education Committee of NSTA, President of the Association for Multicultural Science Education (AMSE), Division Director of the Multicultural/Equity in Science Education, Author/Facilitator of Higher Qualified Teacher & Equity, and Facilitator of Students of Poverty Focus Group.
Dr. Brewton's publications and grants include; Presenter, International Conference, Wuhan, China; Attended First White House Summit Science Education; Invited Lecturer, Science Teachers Association Nigeria; AMSE Legend Award; AMSE Service Award; and County Teacher of the Year.
For more information about Dr. Cherry Brewton, please visit https://www.linkedin.com/in/cherry-brewton-50a627116.